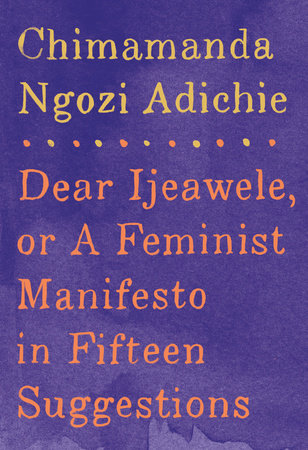 Should Your Book Club Read Dear Ijeawele, or A Feminist Manifesto in Fifteen Suggestions by Chimamanda Ngozi Adicie?  Yes.  Especially if your book club members have a month where there's a lot going on outside book club (did I hear you just say "That's every month!"?) because this book is SHORT but very, very thought-provoking.
The book is a letter to Ms. Adicie's friend, who has just given birth to her baby girl Chizalum and has asked Adicie for advice on raising her as a feminist.  The book is that letter, offering 15 suggestions, each of which heads its own chapter.  The entire book is only 63 pages and you can finish it well under an hour.  Or you can savor it and think deeply as you read.  Or you can return to it, dipping into its wisdom as and when you like.  You may want to order copies to give as gifts to new–and old–mothers.  Or to daughters.  Or sons!  To fathers and husbands.
I agree with much of the book, and there are parts of the book that I am still mulling over.  One stark piece of advice that I disagree with, however, is under the suggestion "Teach Chizalum to read."  Obviously I don't disagree with that advice!  However, Adicie goes on to say, "If all else fails, pay her to read."  I must say, I strongly disagree with this. 

There are many, many ways to teach a child to read and to foster the love of reading.  Paying money, in my opinion, sends the wrong message.  I'd prefer children to be intrinsically motivated to read, rather than extrinsically.
As I said, this is my opinion.  I am guessing, though, that there are studies with data out there about this.  Just using common sense, though, what happens to a child who has been 'rewarded' to read when that money is no longer paid?  I presume the argument is that the child will have developed the habit of reading and therefore will continue to do so even without remuneration.
Hmm.  Maybe.
Contrast this idea, though, with a child who has actually developed the appreciation and love of books and reading for their value, not because of the value of $$$.  A child who finds books and reading worthwhile and a reward in itself will be a life-long reader.  That's my strong bet, anyway.
You all know I am open-minded, however, so if you disagree, please feel free to weigh in–I'd love to hear from you!